News
Brick Recalls Borough Business Appeal
BY PAUL SINGLEY
REPUBLICAN-AMERICAN -11/15/2015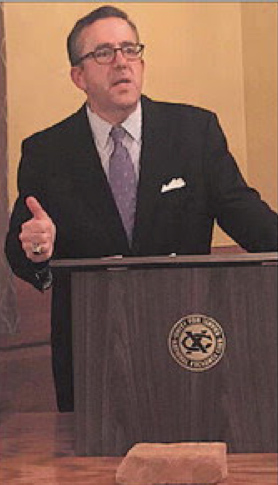 NAUGATUCK - In 1921, a group of Armenian immigrants approached banks in New Haven with a proposal to expand their candy factory.
The banks turned down their request for money.
They then approached the Naugatuck National Bank, which offered to give them a loan if they built in the borough. For more than 85 years, the Peter Paul candy factory produced Mounds and Almond Joys exclusively in Naugatuck.
The story is emblematic of the type of can-do attitude Naugatuck business leaders have shown for decades, according to Brian Flaherty, senior vice president for public policy with the Connecticut Business & Industry Association. He told the story to the Naugatuck Economic Development Corp. during its annual meetingTuesday night as a way to remind members of the long history of business success in the borough and to make them think of what is possible for the future.
Flaherty, the night's guest speaker, pulled out a brick from the now-demolished Peter Paul factory and placed it on the table in front of him, where he spoke to more than 100 people. flo
"With the money, they were able to buy that brick, and thousands of more like it that became the cornerstone of the community, the cornerstone of countless families, the cornerstone of candy business," he said. "And the sum total of those bricks turned out so much sweeter than anyone could have imagined."
Flaherty said that is part of Naugatuck's story but also his own — his great-grandfather was a candy maker from New York and the first employee that the company hired in Naugatuck. He later became president of the factory.
Because someone gave the candy-makers an opportunity, the factory gave countless families an opportunity to pay their mortgages and put food on their tables, he said.
The message Flaherty left them with is: "What's next?"
"Who is that next group of people or person with an idea, with a service, with a product that they have in their minds that is going to end up finding an open door in the community?" he asked.
NEDC President and CEO Ron Pugliese said he is optimistic that the borough will have a good year in 2016 because he does, in fact, know what is next.
The borough has a contract signed with two developers who plan to build a medical office complex anchored by Saint Mary's, an upscale coffee shop and a bank on a vacant land tract downtown known as Parcel C.
"A year ago, we heard from (developer) Rob Oris about his vision for Parcel C," Pugliese told the audience. "While I admit that it has taken a little longer than I expected, we are about to submit to our land use boards elevations and renderings that both the NEDC and the Board of Mayor and Burgesses have approved. ... I am upbeat and confident about the future and certain of the positive outcomes of all of the projects we are working on."
Contact Paul Singley at psingley@ rep-am.com, on Facebook at RA Naugatuck or on Twitter @RANaugatuck.